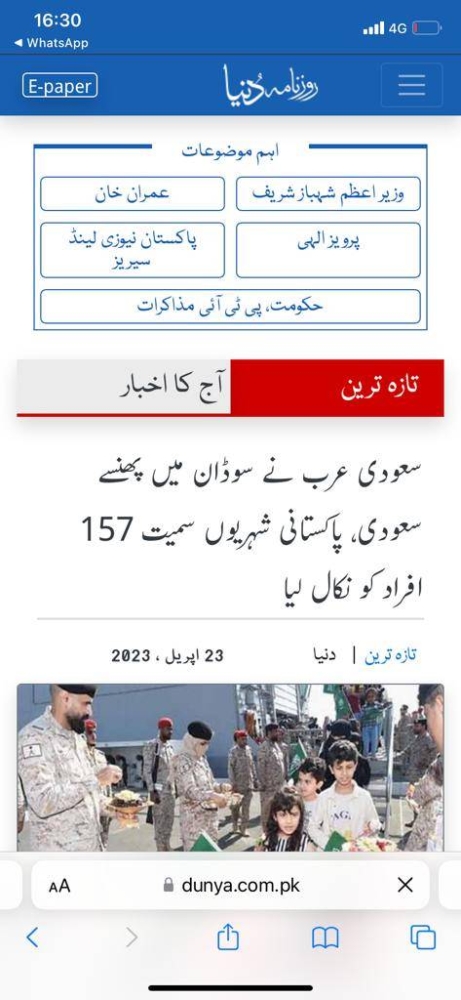 The Pakistani media, including newspapers, channels and news sites, covered the news of the evacuations and rescue operations carried out by the Saudi authorities for nationals and foreigners from brotherly Sudan after the tragic events that erupted recently, as it elaborated on publishing news and pictures from King Faisal Naval Base in the city of Jeddah, and the numbers of those who were evacuated and the statements of officials. The Saudis.
And the widely circulated Daily Jang newspaper published, "150 people were evacuated from Sudan, including Saudis, Pakistanis and other nationalities, as the Saudi authorities distributed flowers, sweets and other things to the passengers who disembarked from the ships."
For its part, Dunia newspaper published: "After the outbreak of civil wars in Sudan, Saudi Arabia carried out successful operations to evacuate citizens and foreigners from Sudan via Saudi naval ships and brought them to Jeddah."
BBC Ardo shared: "The ongoing clashes in Sudan are escalating day by day, and the evacuation of foreigners continues, including Pakistani citizens, as several countries carried out evacuations of their citizens from Sudan, and the Kingdom of Saudi Arabia played its role in evacuating 150 people by ship, as the Minister of Foreign Affairs thanked Pakistani Bilawal Bhutto Zardari and Saudi Foreign Minister Prince Faisal bin Farhan for rescuing the Pakistanis via a phone call».
The Express newspaper commented: "The Kingdom of Saudi Arabia has evacuated 150 people – including Pakistanis – trapped in Sudan, and according to the statement issued by the Saudi Ministry of Foreign Affairs, Saudi citizens, diplomats, officials, and citizens of other countries and friendly countries have been safely evacuated from Sudan, by order of the leadership." Saudi Arabia, and the Saudi naval forces and other branches of the forces participated in the rescue operation.
For his part, the Ambassador of the Custodian of the Two Holy Mosques to Pakistan, Nawaf bin Saeed Al-Maliki, praised the size and accuracy of the Pakistani media coverage of the events and rescue and evacuation efforts undertaken by the government of the Custodian of the Two Holy Mosques, represented by the concerned authorities and sectors.
Ambassador Al-Maliki also valued the work and efforts of the sectors participating in the evacuation and rescue under the directives of the Custodian of the Two Holy Mosques and his trustworthy Crown Prince, adding that these efforts are not surprising for the country of humanity, goodness and giving, which have been proven by actions before words throughout history and at the world level, and he added that the Kingdom's efforts put the human being and his safety First, above all considerations and without considering the different nationalities, sects and ethnicities, and that this policy drawn by the Custodian of the Two Holy Mosques was manifested in all global crises, the latest of which was the Corona pandemic crisis.