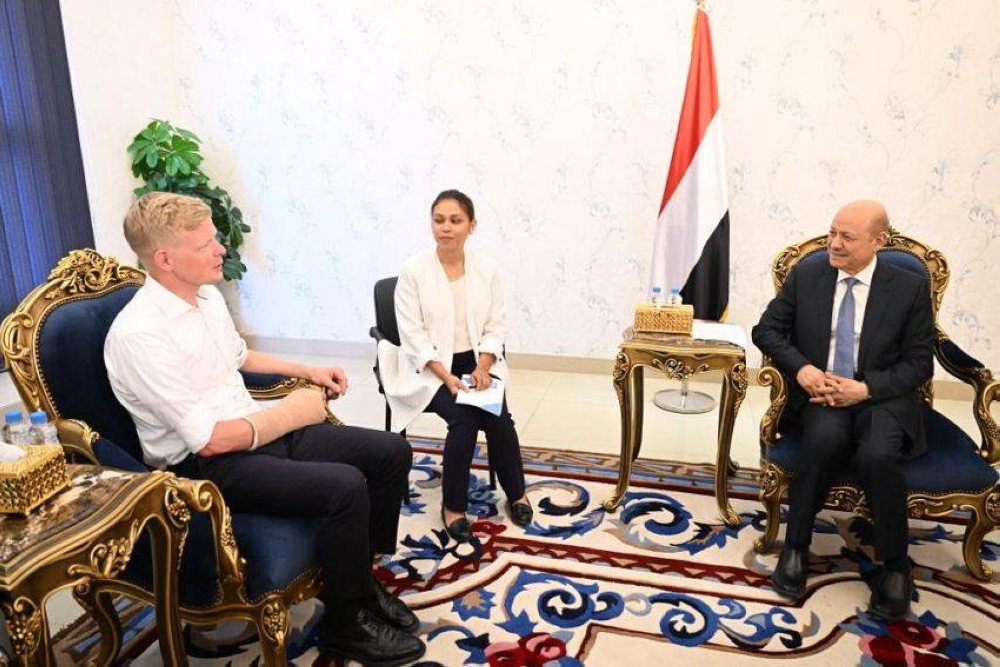 Today (Wednesday), the President of the Presidential Leadership Council, Dr. Rashad Al-Alimi, praised the Saudi efforts and early initiatives for peace since 2021, and the importance of building on them to push the Houthi militia to deal seriously with regional and international endeavors to launch a comprehensive political process led by the United Nations.
During his meeting with the UN envoy, Hans Grindoberg, at Ma'ashiq Palace in Aden today, Al-Alimi affirmed the commitment of the council and the government to support the endeavors of the UN special envoy, regional and international mediators, and all initiatives aimed at ending human suffering, and achieving the legitimate aspirations of the Yemeni people to restore state institutions, peace, stability and development.
The head of the Yemeni Presidential Leadership Council called on the international community to double the pressure on Al-Houthi to fulfill his obligations related to the file of detainees under the Stockholm Agreement, and the recent understandings that stress the exchange of visits to detention facilities, and to reveal the fate of thousands of abductees and those hidden in militia prisons, in the forefront of which is Muhammad Qahtan, who is covered by the Council's decision. international security.
Al-Alimi pointed to the Houthis' unpreparedness for the peace option without indifference to the worsening suffering, which was clearly evident in the painful stampede disaster in Sana'a that claimed the lives of dozens of poor people looking for any humanitarian aid to survive, warning of the danger of the international community continuing to ignore the Houthi unilateral measures and its gross violations of human rights. This encouraged it to mobilize more than a million children into mobilizing sectarian camps to glorify wars and incite against the values ​​and principles of peace, moderation, and coexistence that Yemenis have known throughout history.
The President of the Presidential Leadership Council welcomed the recent statement of the UN Security Council, in which he called on the parties to engage in good faith in peace efforts, and stressed the need for any negotiation process to be based on the agreed terms of reference, in particular the relevant Security Council resolutions.
The UN envoy visited Sana'a and met the Houthi leaders during the past few days. According to identical sources, Grindoburg is conducting consultations on a comprehensive ceasefire and the completion of humanitarian efforts related to the implementation of what remains of the prisoner and abductee deal agreed upon on March 20, the opening of roads and other economic arrangements.