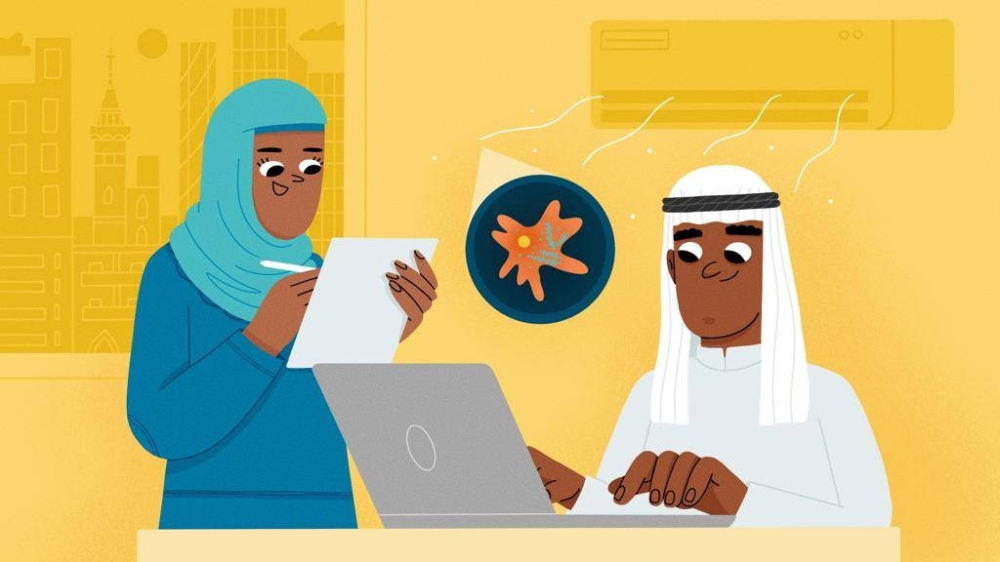 Scientific articles can always be difficult for young readers to understand; Because of the complex terms and concepts it contains, but molding the scientific content in the form of simplified, fun, and easy-to-understand stories for young thinkers may be the most appropriate solution to address this dilemma. Adopting this approach, KAUST has partnered with Frontiers Young Minds, a not-for-profit academic journal that publishes high-quality STEM articles uniquely edited by kids for kids (from age 8 to 15 years). This distinguished partnership aims to inspire Arabic-speaking school students and young scholars in the Kingdom of Saudi Arabia and abroad to enter the world of discovery and scientific research by involving them in the publishing and editing process.
It is noteworthy that KAUST's partnership with Frontiers magazine was launched in 2020 to produce scientific articles for young readers on the magazine's Arabic website. So far, all of these articles have been translations. "KAUST has been a contributing partner to us since the beginning of our Arabic version of the magazine, and through their generous support, we have created extensive scientific publications in Arabic since mid-2021," says Laura Henderson, Head of the Educational Awareness Department at Frontiers.
But on April 17, 2023, this initiative published its first original scientific article in Arabic, titled "The Story of Deceptive Bacteria: From Survival to Causing Pneumonia!", written by Professor of Molecular Microbiology Professor Youssef Abu Kwek, who specializes in immunology and immunology. Microbiologist Dr. Tasneem Al-Qadan, both from the University of Louisville, USA.
"This introductory scholarly article, written and referenced in Arabic, is the result of KAUST's collaboration with Frontiers to enable young readers to understand complex scientific concepts," said Dr. Through early involvement in editing the scientific content of the countrymen and other young Arabic-speaking thinkers, we ensure that the region has the necessary cadres of future leaders in the fields of science, technology, engineering and mathematics."
Supervision of PhD students at KAUST
The article "The Story of Hoax Bacteria: From Survival to Pneumonia!" For Arabic and English speaking readers online. She talks about Legionella, a water-dwelling bacterium that can transmit to humans through contaminated water droplets and multiply inside the cells in the human lungs, leading to pneumonia.
It is noteworthy that three children, including two Saudis, participated in reviewing the article. A PhD student at KAUST supervised and provided guidance on how to make the article clear and fun for children, as is the case with all other Frontiers articles.
Dr. Sumaya ElBaradei, who graduated from KAUST in 2022 with a Ph.D. in computer science, and was one of the scientific supervisors of the article, confirms that it was a unique and valuable experience and a great opportunity to transfer knowledge and encourage innovation in the Arabic language. She says, "Investing in promising young scientists is the best. A way to develop great discoveries in the future. These accurate and wonderful scientific articles edited by our youth will have great impacts on achieving Saudi Vision 2030, which aims to develop a vibrant society, a prosperous economy and an ambitious nation.
Support more Arabic scientific content
Henderson says that Frontiers is determined to encourage more Arabic-speaking researchers to participate and learn from this unique experience of peer review. Through this initiative, the journal invites Arabic-speaking PhD holders, with experience in peer review and specialized scientific fields, to apply as supervisors and mentors, in addition to Arabic-speaking researchers who have records in publishing scientific articles to apply as authors.
According to Henderson, the relationship between the journal and King Abdullah University of Science and Technology will continue to evolve to support more new projects and activities and enhance global standing and presence, with the aim of delivering the best pioneering research to the widest possible global audience, inspiring the next generation of senior scientists. For more information about supporting this initiative, you can contact Frontiers Young Minds at [email protected].