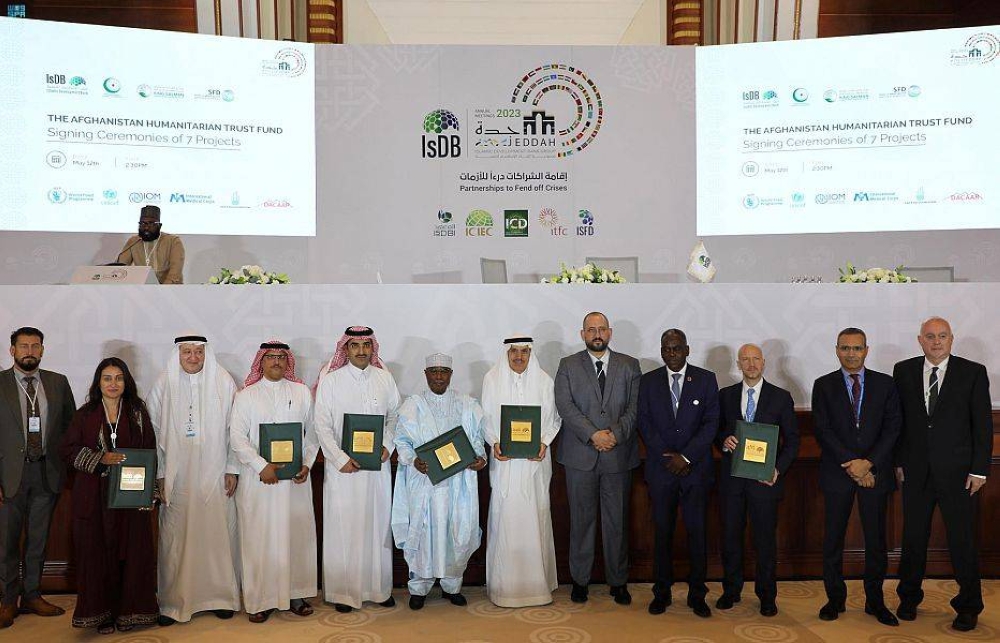 The Saudi Fund for Development, headed by the CEO of the Fund, Sultan bin Abdulrahman Al-Murshed, concluded its participation in the annual meetings of the Islamic Development Bank Group, held in Jeddah from May 10-13, 2023, to discuss innovative solutions in facing challenges under the slogan "Establishing partnerships to prevent crises."
The CEO of the Fund met with a number of ministers from various countries, in addition to officials in development institutions and international organizations. During those meetings, they discussed common development issues with the relevant authorities, as well as discussing and strengthening ways of bilateral development cooperation.
On the sidelines of the meetings, the Leader attended the signing ceremony of agreements for the Humanitarian Trust Fund for Afghanistan in partnership with United Nations organizations and other international institutions, which aim to finance development projects to help Afghanistan and its brotherly people. These agreements are also a clear contribution to strengthening international development frameworks towards achieving comprehensive sustainability.
He also participated in the session of the Financing Innovative Education Initiative in partnership between the Arab Coordination Group for Arab National and Regional Development Institutions and the International Partnership for Education. The scope of education in order to ensure quality and comprehensive education in order to enable developing countries to keep pace with development in the field of knowledge and capacity building, as the Saudi Fund for Development attaches great importance to supporting and financing development projects and programs that it implements in developing countries, and the Fund has allocated part of its development contributions to education , bringing the support to financing (119) development projects, with a total of (2.8) million dollars.
It is noteworthy that the Saudi Fund for Development is the external development arm of the Kingdom and one of the largest active entities in providing development assistance, as it has contributed since 1975 to achieving stability and prosperity for many least developed countries, as the number of development projects and programs funded by the Fund has reached more than (700) projects and programs. Through soft loans to support various development sectors in (84) developing countries around the world. The Saudi Fund for Development, headed by the CEO of the Fund, Sultan bin Abdulrahman Al-Murshed, concluded its participation in the annual meetings of the Islamic Development Bank Group, held in Jeddah from May 10-13, 2023, to discuss innovative solutions in facing challenges under the slogan "Forging Partnerships to Prevent Crises."