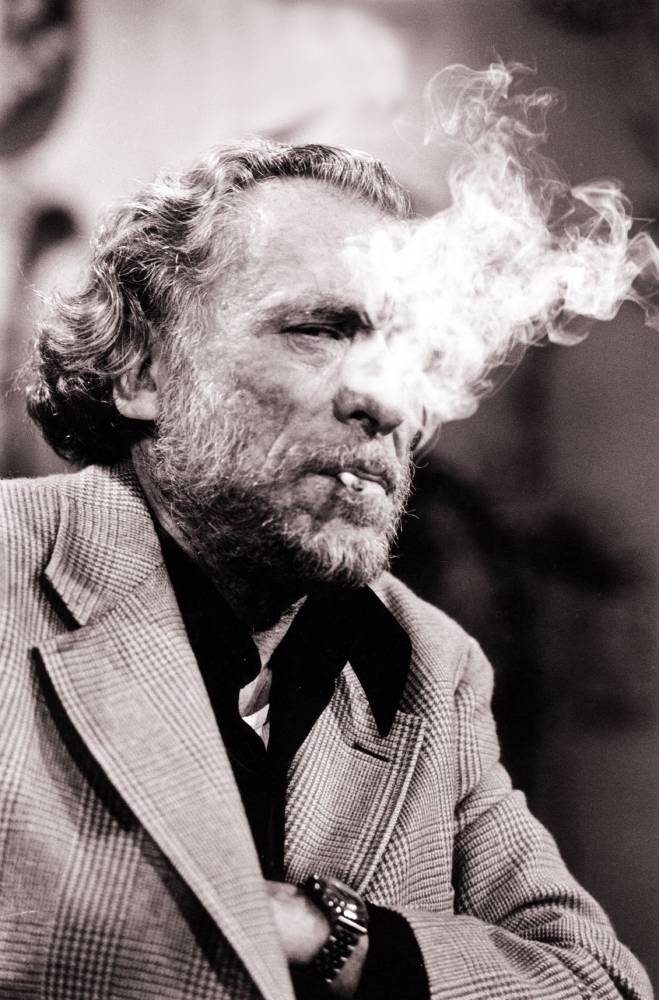 On the wall of the men's bathroom at vintage Cole's Bar and Restaurant in Los Angeles hangs a plaque that reads CHARLES BUKOWSKI PISSED HERE; As that corner became a shrine for Bakovsky's readers, and that painting was reproduced and sold on Internet sites for twenty dollars a copy. In fact, visitors to that exotic corner cannot be categorized as readers, as much as they can be treated as fetishists. That is, as believers and sanctifiers of Bakovsky, and everything related to him, whether at the level of writing or outside it, as Bakovsky constitutes a delusional state for fans of his written works and lovers of his provocative life presence, suggestive of hippie and indifference, and these manifestations did not all occur spontaneously as an extension of his literary personality, but – sometimes – with the recommendation of his publishers to market his writing as it was finally published. This is what made him sacred to the masses, not only in the West, but his effects reached the Arab world after translating many of his works.
Bikovsky is an example of a writer who readers have been able to turn into a literary and life idol, because of their admiration for him. Thus, his readers came out of his texts to himself, through a clinical treatment that preserves his sanctity and his idolatry as a writer, as the readers became in a state of panting after the material and immaterial Bakovsky traces, in order to escalate the written material that he left behind by peeping over his originally exposed personal life, as if his immoral text could not be To be read outside his violent sexual mood glorifying misogynistic addiction and the mounds of gossip about his personality, to the point where they rumored that he urinated on his mother's grave. They also encouraged him to read his poetry on stage and in public spaces while he was drunk and aggressive, with a loud voice and chaotic performance to the extent that, at times, he forgot some vocabulary and sentences, in order to emphasize the power of his texts in violating the American social system, as he is the son of self and the impetuous American society.
The strangeness of Bikovsky's actions was not separated from his texts and literary biography, as he published a shocking book of poetry, which was empty white pages to make a fuss about himself, and he also wrote a letter to the editor-in-chief of a newspaper claiming that he had been raped by a dog. And he was proud of eating raw meat. While some readers believed that he was mentally unstable, his authors defended him fiercely and pushed him to more social and literary provocations under the pretext of breaking through the normal and familiar social and cultural morals. And he often flirted with the audience in crude terms with the help of his readers, as he once clashed with an audience member in a bookstore in Los Angeles when he described him as a fool after his verbal abuses, after which the organizers of the occasion had to remove him from the library. He was also criticized on a website dedicated to combating hate speech. The Bikovsky saints were able to close it in defense of their saint. They also made his grave a shrine where they read excerpts from his poetry and left behind beer cans and whiskey bottles to perpetuate his biography.
Not everything that Bakovsky wrote deserves praise, and not all that he did or made of showcasing scenarios deserves glorification, but his readers and fans found what they needed in him as a writer who talks about their struggles with loneliness, isolation and despair, and his writings give them reassurance that they are not alone in their miserable life experiences. Likewise, they see in his ability to penetrate taboos, both moral and social, as a sure force for their existence and their challenge to the cruelty of the world. On this basis, they appreciate his honesty and energy to explore the darker side of life. He is not ashamed of revealing, he is not afraid of addressing difficult topics, and he does not smear the realities of life with false cosmetic texts, and that is why they love even his prolific production and perverted ethics, and his ability to stare at the ugliness of the world and expose it, a tendency that resonates even with critics.
Buk, as his supporters call him, did not comply with the expectations of others, nor did he accept himself as a writer separate from people and the world, but rather turned himself into a public figure and found beauty in ordinary life, so his communication with his audience came on a personal level. He would tell his audience about the idea of ​​alcohol that made him feel relaxed and confident, to the point that his reading of poetry while drunk became part of his literary and social persona. With that reading, he presented the raw image of existence, which made him the most famous of the Beat Generation. His writings had an impact on American literature, and he was praised by his successors: Allen Ginsberg, Jack Kerouac, and William Burroughs. His writings were also considered an expression of originality, dark satirical humor, and brute force, as he was able, in a few and simple words, to create a system of strong images and emotions, despite his writings' lack of moral vision and their inclusion of declared misogyny, a celebration of addiction, and their lack of a positive message.