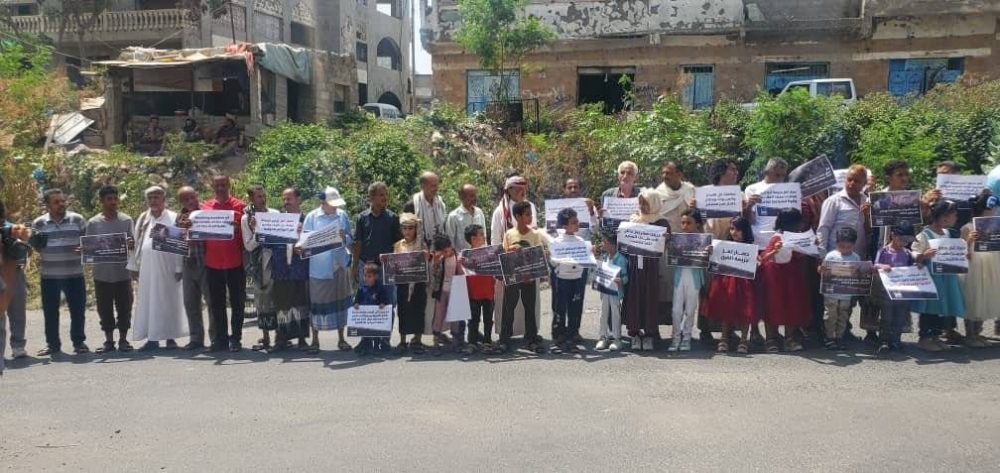 Today (Saturday), Yemeni protesters called on the international community to pressure the Houthi militia to open the roads and lift the siege on the city of Taiz. On the occasion of the 8th anniversary of the blockade, they raised slogans in front of the eastern port of Taiz city, calling for an end to the blockade, including those involved in the blockade issue in the sanctions list, and dealing with the issue of Taiz as a humanitarian, not a political file.
The protesters said in a statement that the crime of the siege of Taiz is not a violation, but rather a series of crimes that included murder, injury, kidnapping, starvation, deprivation of water, health care, disability, planting mines, and others, stressing that the siege file is not a political file to be included in the negotiation files, but rather a humanitarian issue that requires a speedy end to the siege without restriction or restriction. condition.
The protesters called on the UN envoy, Hans Grundoberg, to put pressure on the Houthi militia to end the siege of Taiz without conditions, stressing the need for the UN Security Council Sanctions Committee to quickly include those involved in the blockade issue in the sanctions list and deter the Houthi militia to force it to end the siege.
The protesters urged international organizations not to ignore the crimes and violations committed by the militia against civilians in Taiz governorate and to treat them as war crimes, declaring their refusal to politicize the Taiz issue and turn it into political blackmail in negotiations with the Houthi militia, which the United Nations must deal with as a humanitarian file.