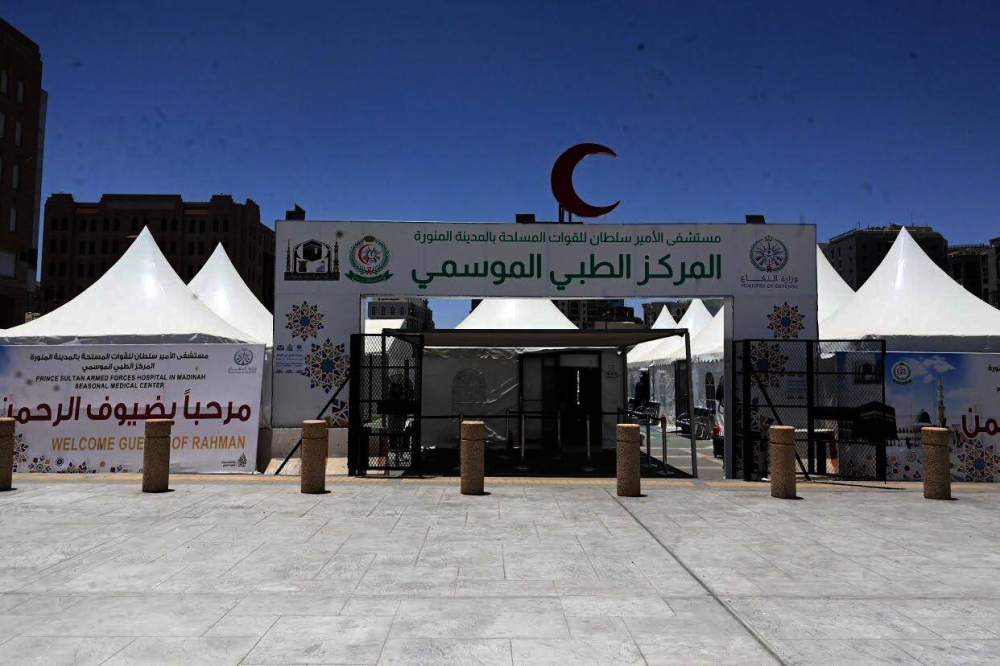 The Director of Prince Sultan Hospital for the Armed Forces, Major General Doctor Ahmed bin Abdulaziz Al-Baridi, explained to "Okaz" that the General Administration of Health Services at the Ministry of Defense represented by the Prince Sultan Hospital for the Armed Forces in Madinah participated in a (seasonal medical center) in the square of the Prophet's Noble Sanctuary in the western side, in cooperation with The General Presidency for the Affairs of the Grand Mosque and the Prophet's Mosque and the General Directorate of Health Affairs in Al-Madinah Al-Munawwarah Region and the Health Cluster in Al-Madinah Al-Munawwarah Region to provide health care to visitors to the Prophet's Mosque and Umrah performers of all categories throughout the Hajj season over a 12-hour period.
And Major General Al-Baridi stated that the seasonal medical center provided services to more than 21,000 patients during the Hajj season in all periods of the season, which are divided into two seasons: the first season is the stage of the pilgrims' arrival to the city before performing the Hajj rituals, and the second stage is the stage after performing the Hajj rituals.
He pointed out that the center provides its services with a total of 20 medical tents, 18 observation and emergency beds, two mobile medical carts, and auxiliary diagnostic services. A laboratory, a pharmacy, diabetic foot care in the dressing room, treatment of wounds and burns of the first and second degree, and physiotherapy, which provides its services, including the (fitness pilgrimage) initiative, which is an awareness and treatment initiative. The center serves emergency cases that require rapid intervention and provides cardiopulmonary resuscitation. Cases that require transportation are transferred to Ministry of Health hospitals. Two ambulances are available at the center to transport emergency cases, in addition to distributing awareness and educational materials.