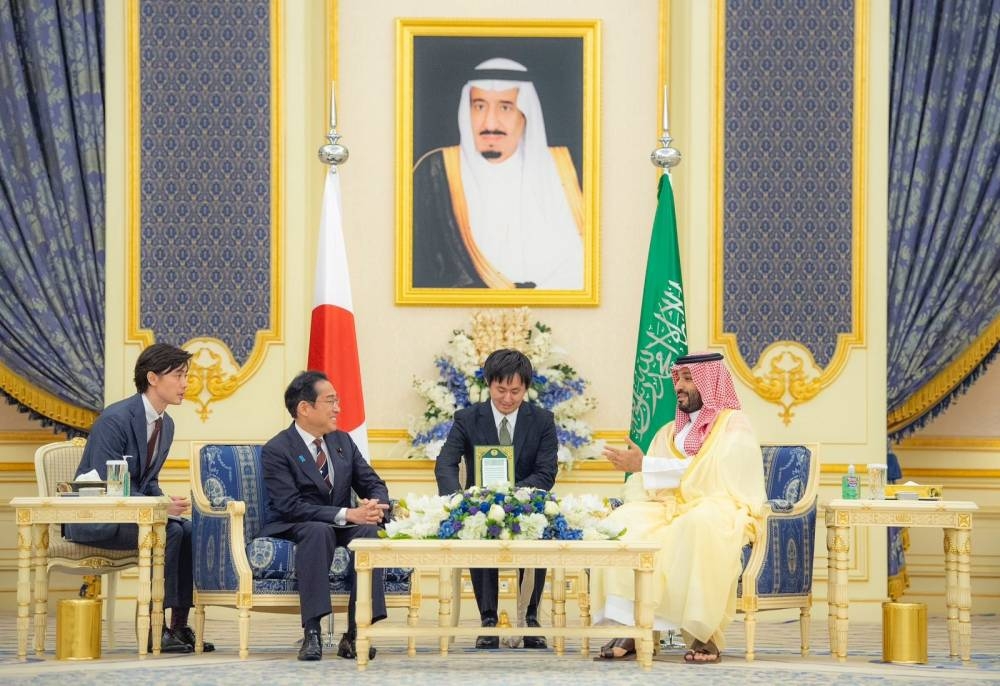 Crown Prince and Prime Minister Prince Muhammad bin Salman bin Abdulaziz Al Saud received, at the royal court at the Peace Palace in Jeddah (Sunday) evening, Japanese Prime Minister Fumio Kishida.
His state was given official reception ceremonies.
The Crown Prince and the Japanese Prime Minister held an official session of talks, at the beginning of which the Crown Prince welcomed the Japanese Prime Minister to Saudi Arabia, while his country expressed his happiness with this visit and his meeting with the Crown Prince.
During the session, talks were exchanged on bilateral relations, especially aspects of cooperation in the economic, trade, investment and cultural fields, and ways to enhance cooperation in accordance with the Saudi-Japanese Vision 2030, in addition to reviewing views on a number of regional and international issues, and the efforts made in this regard.
After the talks session, the Crown Prince met, in the presence of the Japanese Prime Minister, heads of companies and business owners in Japan.
The meeting was attended by the Minister of Energy, Prince Abdulaziz bin Salman bin Abdulaziz, the Minister of Sports, Prince Abdulaziz bin Turki bin Faisal bin Abdulaziz, the Minister of Interior, Prince Abdulaziz bin Saud bin Nayef bin Abdulaziz, the Minister of Foreign Affairs, Prince Faisal bin Farhan bin Abdullah, and the Minister of Commerce, Dr. Majid bin Abdullah Al-Qasabi. The Minister of Tourism, Ahmed bin Aqil Al-Khatib, the Minister of Investment, Engineer Khalid bin Abdulaziz Al-Faleh – the accompanying minister, the Minister of Communications and Information Technology, Eng. Abdullah bin Amer Al-Sawaha, the Governor of the Public Investment Fund, Yasser bin Othman Al-Rumayyan, and the Ambassador of the Custodian of the Two Holy Mosques to Japan, Nayef bin Marzouq Al-Fahadi.
On the Japanese side, Minister of State for Cabinet Affairs Yoshihiko Isozaki, Executive Secretary to the Prime Minister Mr. Shimada Takashi, Secretary General of the General Secretariat for National Security Mr. Akiba Takeo, Deputy Foreign Minister Yamada Shigeo, Deputy Minister of Education, Culture, Sports, Science and Technology Masuko Hiroshi, and Deputy Minister Economy, Trade and Industry for International Affairs Hosaka Shin, Deputy Minister of Land and Hokkaido Development of the Ministry of Land, Infrastructure, Transport and Tourism Aihara Atsushi, Deputy Minister of Defense for International Affairs Oka Masami, Executive Secretary of the State of Prime Minister Ahtsuru Tetsuya, Ambassador of Japan to Saudi Arabia Iwai Fumio, and Director General of the Office of Eastern Affairs Middle East and Africa of the Ministry of Foreign Affairs Nagaoka Kansuke, Director General of the National Space Policy Authority in the Cabinet Office Kaziki Jun, and Director of the Second Division for the Middle East of the Ministry of Foreign Affairs Kuromiya Takayoshi.